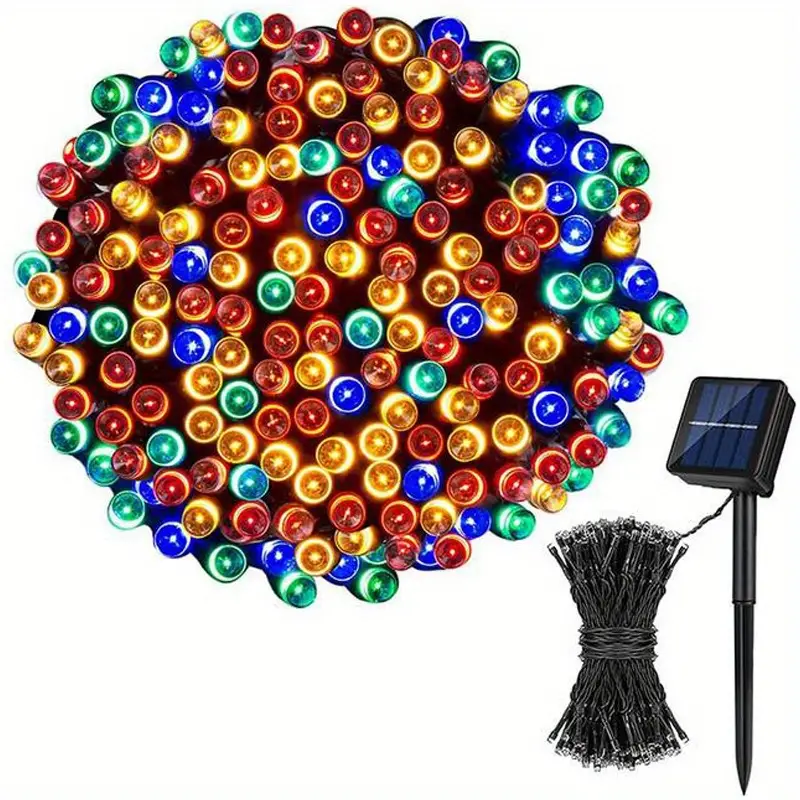 ${data.index + 1}/11
【 Super-Long 8-in-1 Solar String Lights 】: Solar Lights Outdoor String with Upgraded LED Bulbs. 8 Lighting Modes & Memory Function & Auto On/Off, Higher Solar Powered Conversion with Larger Size Solar Panel, Larger Capacity Battery(1800mah)
【Widely Used Solar Outdoor Christmas Decorations】: This solar patio lights is a great choice for Porch, Roof, Tree, Backyard, Deck, Barbecue, Umbrella, Fence, Pergola, Bistro, Restaurant, Hotel, Commercial building, Shopping Center, Dinner, Birthday, Christmas, New Year Party and more.
【Quick Charging Technology & Energy-Saving & High Efficiency】: This outdoor balcony lights charging by solar energy, have no extra utility electric cost, and no need to replace the battery. it can work up to 10-12 hours after being fully charged (6-8 hours).
【8 Lighting Modes & Memory Function & Auto On/Off】: These solar twinkle lights have the On/Off button and mode button. You can select 8 different modes to satisfy your diverse needs by pressing the mode button.And the built-in memory chip saves your last modes setting, so there is no need to reset it again.
Why Choose Solar Lights Outdoor?
· Adjustable Heads solar lights outdoor can rotate freely to any direction you want. The solar panel also can be freely adjusted to face the direct sunlight.
· Fast Charging & Long-Lasting: with the premium rechargeable 1800 mAh battery, Solar String Lights Outdoor recharge in just 6 hours and it can work up to 10-12 hours after being fully charged (6-8 hours).
· Built-in Lighting sensor: auto turn on at night, auto charge at day. ·8 Modes' button design, you can choose the mode according to you need.
No wiring, No electricity cost. Put on wall, window, door, floor, ceiling, grass, Christmas tree or building, Add perfect atmosphere to your place. Why It Doesn't Work?
Step 1: Before first use, please charge lights under direct sunlight without any shelter for 1 sunny day.
Step 2: Please totally cover the solar panel or put lights upside down and press the on/off button to see if lights light up, if not, press again! Lights should work and then install them in your favorite places.
Please Note: The selected location should not be near strong ambient lighting, such as street lights, which may cause the light to turn off automatically because the light sensor inside will detect the light and will not turn on. How long the light illuminates will depend on your geographical location, weather conditions, and seasonal light availability. If battery capacity reduces over time, switch the light off for 3-5 sunny days in order to boost the batteries
*NOTES* : 1. Please power ON first before charging, and it will be charged automatically. 2. Be sure the solar panel is in a sunny location – not in a shady area – and the solar panel faces the sun.