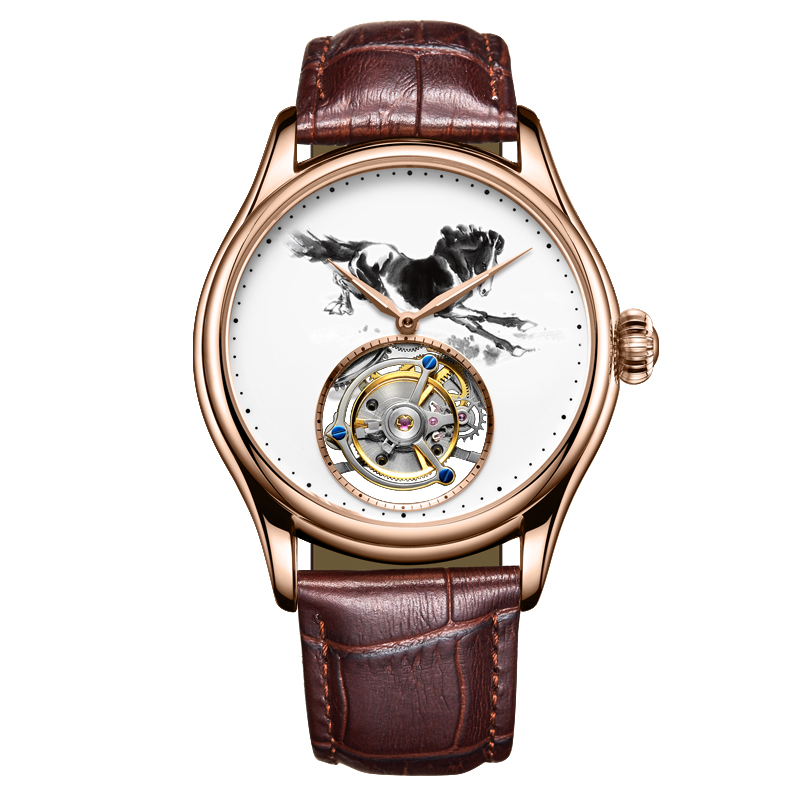 ${data.index + 1}/12
Tourbillon:
HEART OF WATCH
Tourbillon movement
The average productjon of a tourbillon movement requires more than six month of manufacturing. more than 4,500
processes. more than 70 bridge plategrinding operations. more than 30 watch technicians and more than 50 watch dial
milling operations.
The tourbillon:
Design inspiration:
1.Ink painting is regarded as the representative of traditional Chinese painting.that is, traditional Chinese painting.
Horse is vigorous, high, rising, prosperous,developed pronoun. It is also the symbol of ability, sages and talents.
Theancients often compared a thousand-li horse.
2.Designers with [horse] as the theme through the form of ink Chinese painting.The graceful steed is running hard,
and the free and unrestrained image seems to symbolize freedom and power.
A HORSE GALLOPING:
Tourbillon movement:
Superb tourbillon craft design,Can watch the balance wheelflying, the movement at aglance
Ink painting technique:
Front and rear hollow window design:
The hollow window opened at 6 o' clock and the back cover is fully perspective do show the mechanical aesthetics.
Quality stainless steel forging:
experiencing the domain and texture of the watch,the smooth lines of the case, watchmakers carefully
polishes, selected medical grade steel
High quality cattle belt:
Craftsmanship and refinement,it's and leather delicate and delicate,The wristband is made of imported calfskin
Customized service display:
The buckle area is a custom area,chinese,english,and digital
Parameters:
Diameter: 42 mm
Thickness: 12 mm
Case: steel
Crown: steel
Strap: Cowhide
Dial: traditional rivets Mirror: Synthetic sapphire
Movement: Original tourbillon skelelonized Movemented movement
Frequency: 28800
Running time: approx. 40 hours (manual winding)
Timekeeping error: plus or minus ten seconds per day