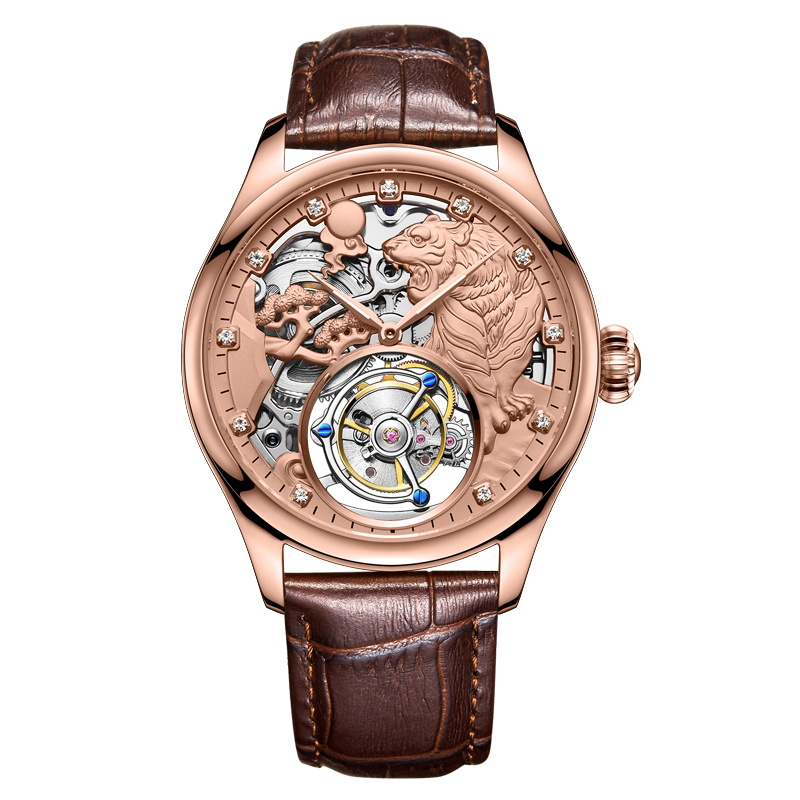 ${data.index + 1}/13
Majestic Demeanor:
Majestic Demeanor:
Design Inspiration:
1.Tiger worship should be derived from the totem worship of tiger in chu culture.
The tiger has always been worshipped by the han nation as a symbol of justice, valor and
majesty. In the han dynasty, the tiger was regarded as the king of beasts.
2.Chinese tiger culture has a long history. Since ancient times, Chinese people have
used the word tiger to form idioms to praise people and things in life. Designer
tiger elements into the watch, expressed the spirit of the Chinese nation,
the national character.
Front and rear hollow window design:
The hollow window opened at 6 o' clock,and the back cover is fully perspectivedto show the mechanical aesthetics.
Hollow CarvingCraft:
Achievement of a treasure,exquisite craftsmanship,originality
Custom service:
Customized service display
The buckle area is a custom area, Chinese, English,and Digital
High quality cattle belt:
Craftsmanship and refinement,it's and leather delicate and delicate,The wristband is made of imported calfskin
Quality stainless steel forging:
experiencing the domain and texture of the watch,
the smooth lines of the case, watchmakers carefully
polishes, selected medical grade steel
Tourbillon movement:
Supert tourbillon craft design,Can watch the balance wheelflying, the movement at aglance.
Parameters
Diameter: 42 mm
Thickness: 12 mm
Case: steel
Crown: steel
Strap: Cowhide
Dial: traditional rivets Mirror: Synthctic sapphire
Movement: Original lourbillon skelelonized Movemented movement
Frequency: 28800
Running time: approx. 40 hours (manual winding)
Timekeeping error: plus or minus ten seconds per day