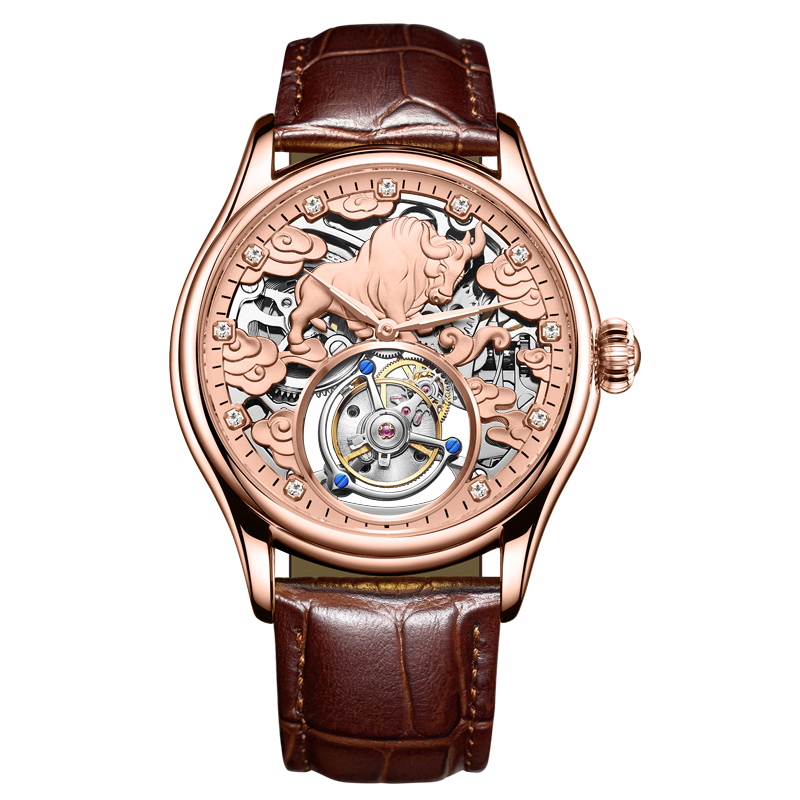 ${data.index + 1}/13
BULLISH Imposing such as Rainbow:
win speedy success overwhelming:
Design Inspiration:
1.The ox is the spirit of wealth. The business is booming and the bul is soaring. At the sametime, cattle also have
the meaning of 'twist which means to turn the world around. ls the symbol of wealth strength and diligence, so the
implied meaning of cattle prosperity, no matter it is life or career, can overcome difficulties in adversity, the cause of life thriving.
2.Watchmaking masters, the use of traditional hollow-out micro-carving technology, the ox element into the design of the watch,
the ox modeling strong and powerful,as if save all efforts to move forward, meaning to work up, unstoppable wealth, It is suitable
for business people to pray for prosperity and happiness.
Average production of a tourbillon movement required:
The average production of a tourbillon movement requires more than six month of manufacturing. more than 4,500 processes
more than 70 bridge plate grinding operations.more than 30 watch technicians and more than 50 watch dial milling operations
Tourbillon movement:
Superb tourbillon craft design,Can watch the balance wheelflying, the movement at a glance.
Chinese zodiac cow:
Cattle body majestic, robust, yuyi securities market "bul" development, is respected as a lucky cow. Body graceful lines,
a symbol of career, wealth unobstructed, is hard-working.smooth, the representative of the model spirit, by the stock
market business people welcome.
Hollow Carving Craft:
Achievement of a treasure
exquisite craftsmanship,originality
Front and rear hollow window design:
The hollow window opened at 6 o'clock and the back cover is fully perspectived to show the mechanical aesthetics.


Quality stainless steel forging:
experiencing the domain and texture of the watch,the smooth lines of the case,watchmakers carefully polishes,
selected medical grade steel
High quality cattle belt:
Craftsmanship and refinement,it's and leather delicate and delicate,The wristband is made of imported calfskin
Customized service display:
The buckle area is a customarea,Chinese, English, and Digital
Parameters
Diameter: 42 mm
Thickness: 12 mm
Case: steel
Crown: steel
Strap: Cowhide
Dial: traditional rivets Mirror: Synthetic sapphire
Movement: Original tourbillon skelelonized
Frequency: 28800
Running time: approx. 4o hours (manual winding)
Timekeeping error: plus or minus ten seconds per day