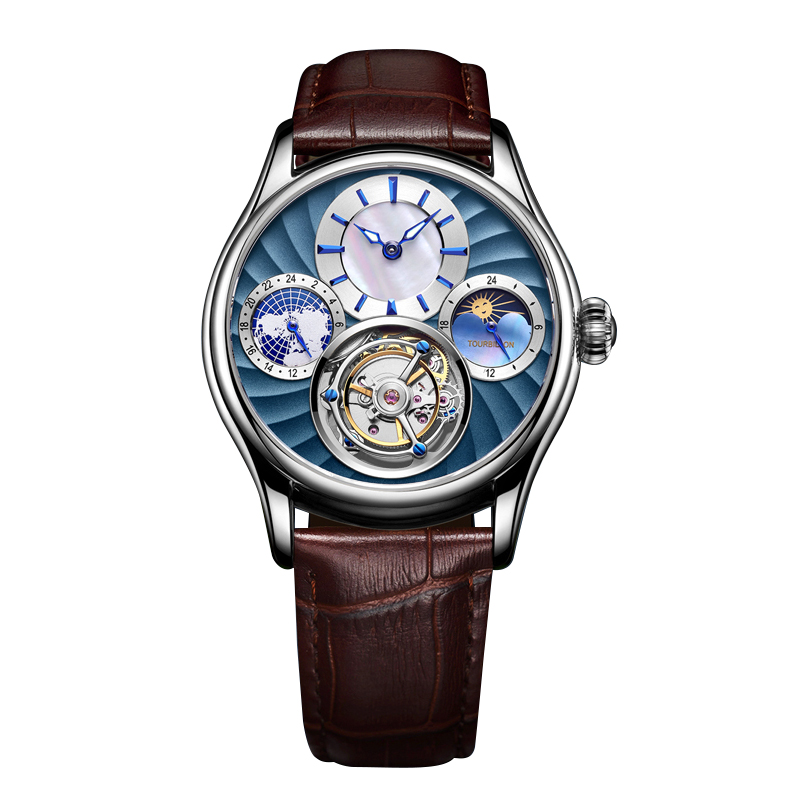 ${data.index + 1}/15
CRAFTSMANSHIP elegant choice
Average production of a tourbillon movement required:
1.The average production of a tourbillon movement requires more than six month of manufac - turing more than 4 500
processes.
2.more than 70 bridge plate grinding operations more than 30 watch technicians and more than 50 watch dial milling operations
LUXURY AND HONOR EXPERIENCE THE LIFE:
1.BRILLIANT:Today, the watch is not only a simple timing tool, but also carries decorative features, speaking of details, exquisite dial moon phase function,24 display smal dial,
2.MULTI-FUNCTION:With the hollow tourbillon, every detail is perfect,and the craftsmanship is beautiful.
DESIGN INSPIRATION "Phases of the moon:crystallization of human feelings for the moon":
1.Since ancient times, there has been nothing longer for humans than to observe the Sun and Moon. It is not an exaggeration to say that human science begins with observation.
2.Wearing a watch that can see the sun, moon and stars at any time is undoubtedly a lot of fun.
TOURBILLON MOVEMENT:
Superb tourbillon craft design,Can
watch the balance wheel flying.the
movement at aglance.
Multi-function dial:
The big dial with revolving texture.the small dial with colorful shell shining.Light luxury fashion
SYNTHETIC SAPPHIRE GLASS MIRROR:
Durable, not easy to scratch
Wear resistant, scratch resistant and waterproof
Quality stainless steel forging:
experiencing the domain and texture of the watch,
the smooth lines of the case,watchmakers carefully
polishes, selected medical grade steel
High quality cattle belt:
Craftsmanship and refinement, it's and leather delicate
and delicate,The wristband is made of imported calfskin
Customized service:
The buckle area is a custom area,chinese,english,and digital
Parameters
Diameter: 42 mm
Thickness: 12 mm
Case: steel
Crown: steel
Strap: Cowhide
Dial: traditional rivets Mirror: Synthetic sapphire
Movement: Original tourbillon skelelonizedMovement ed movement Original tourbillon skeletoniz
Frequency: 28800
Running time: approx. 40 hours (manual winding)
Timekeeping error: plus or minus ten seconds per day