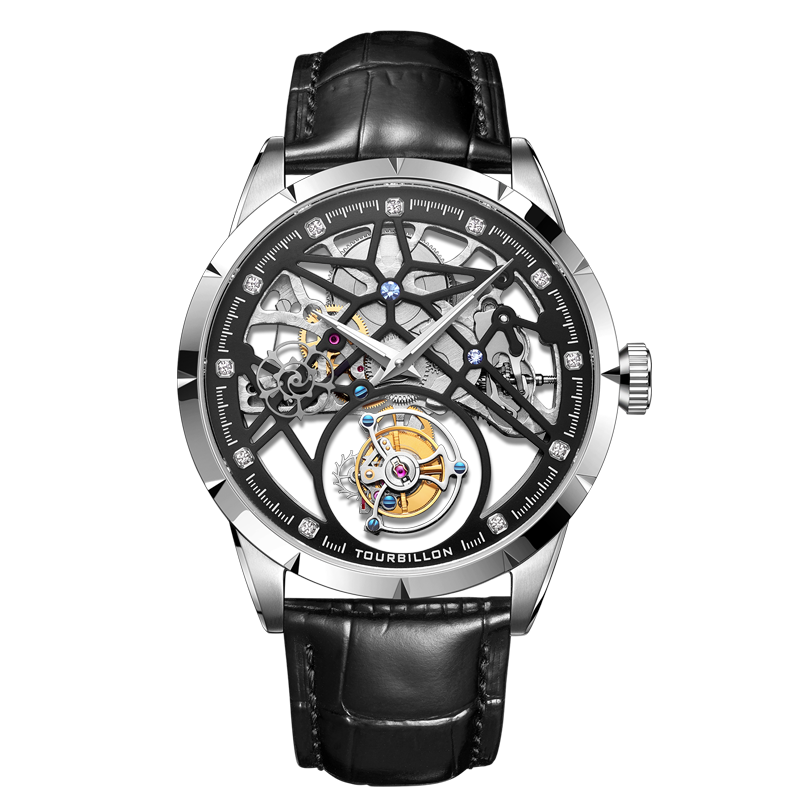 ${data.index + 1}/9
HOLLOW OUT DESIGNMATCHLESS CRAFTSMANSHIP
TOURBILLON VALUE:
The average production of a tourbillon movement requires more than six month of manufac-turing. more than 4,500 processes
more than 70 bridge plate grinding operations.more than 30 watch technicians and more than 50 watch dial milling operations.
DOUBLE-SIDED HOLLOW DESIGN VISIBLE TIME


DESIGN INSPIRATION:
"Skillfully use hollow-out to explore
mechanical charm between light and shadow"
1.Master watchmaker with silver grey black main tone,using double-sided Hollow design, so that the mechanical movement can be seen.
When the gear Start running through the dial, feel the shuttle of time.
2.The interlaced lines in the hollow outdial converge into a pentagon Star shaped, angularcase with diamond-encrusted scale, Shining Time condenses between square inch, escapement. The installation is in plain view.
TOURBILLON MOVEMENT:
Superb tourbillon craft design,Can watch the balance wheel flying, the movement at aglance.
DOUBLE-SIDED HOLLOW DIAL DESIGN:
The interlaced lines in the hollow dial converge into the shape of a pentagonal star.The sharp and angular case is matched with the diamond scale, shining. Time condensesin square inch between, escapement device in a glance.

SYNTHETIC SAPPHIRE GLASS MIRROR:
Durable, not easy to scratch
Wear - resistant, scratch - proof, waterproof
QUALITY REFINED STEEL FORGING:
Selected medicalgrade steel, watchmaker carefully polished
smooth line of the case, the full display of the charm and texture
of the watch.
THE FIRST LAYER OF COW LEATHER WRIST STRAP:
The wristband is made of imported calfskin,with delicate texture and leather. Wear not only the watch
but also the craftsmanship and the essence of the craft.
Parameters:
Movement:original tourbillon hollowed movement
Watch strap:Leather strap
Crown:Stainless Steel
Thickness:10MM
Frequency:28800Hz / Hr
Table mirror:synthetic sapphire mirror
Dial:Double-sided hollow-out
Case:Stainless Steel
Diameter:42.5MM
Walking time:about 40 hours (hand loading)
Travel time error:daily travel time error plus or minus 10 seconds